At McKnight Place, we know how important a strong, active and connected community is to our residents' health and wellbeing. While the physical distancing and other measures required to ensure public safety during the COVID-19 pandemic challenged how we promote that sense of community, it is a challenge our experienced and dedicated staff have met head-on, as McKnight Place Executive Director explained to Ladue News earlier this month.
A New Way of Doing Things
When the first cases of the coronavirus appeared in the St. Louis region in March 2020, McKnight Place's experienced and dedicated staff quickly adapted policies, programming and activities to continue to provide a safe and healthy environment for residents.
Weekly communication from senior leadership to families and efficient implementation of new policies and protocols recommended by the Centers for Disease Control and Prevention (CDC) and the Missouri Department of Health and Senior Services (DHSS) were paramount in ensuring safety and peace of mind for residents and their families. But, our resident-centered approach goes well beyond meeting basic safety needs.
Staff quickly found new ways for residents to maintain their physical and mental health. Residents were encouraged to continue daily exercise sessions when possible and take walks in the courtyard and gardens, nurses continued routine checkups, and staff delivered "Perplexing Puzzle Packs" each morning so residents could stay engaged mentally.
Staying connected
At McKnight Place, we put great value in providing residents with enriching social and learning experiences, regardless of circumstances. So, even in a pandemic, our staff quickly found new ways to make life at McKnight Place fun and engaging.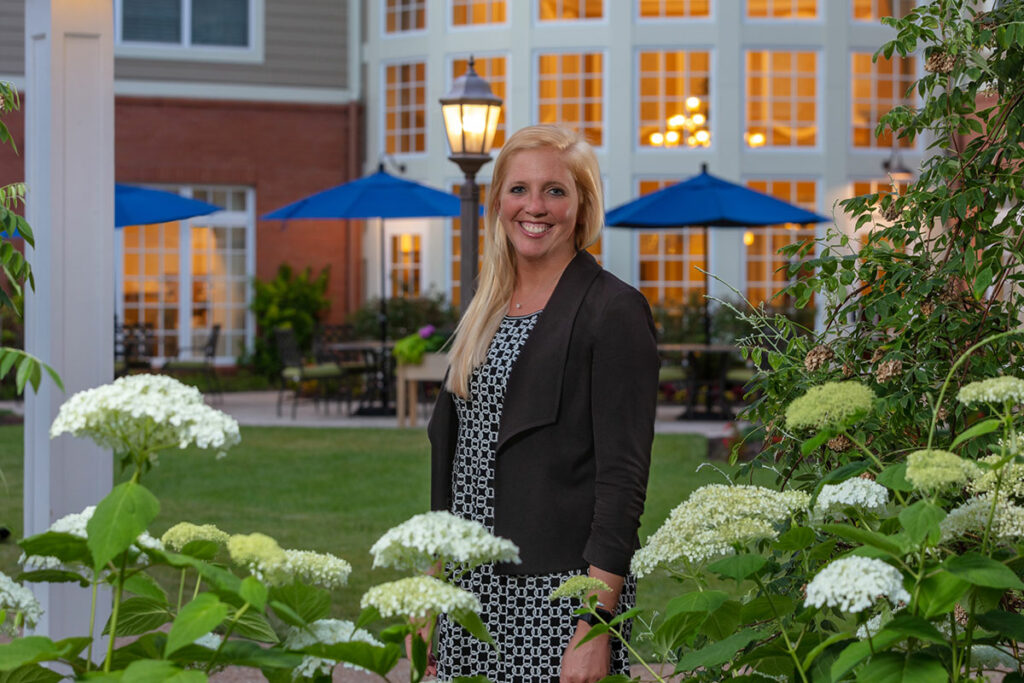 "When we started this journey, we thought it would be fun to have themed weeks," McKnight Place Executive Director Laura Ritthamel says. "These involve various resident and staff events throughout the week. We have had weeks about travel, St. Louis, camping, wild animals, the Olympics, outer space, beaches, the circus, games, school days, and a patriotic week. This helps us to incorporate different themes into our trivia, music topics, creative arts projects, technology, games, puzzles, etc. Likewise, we have had special treats along the way, including Ted Drewes, Pretzel Pretzel Pretzel, Sia's Italian Ice, and weekly themed cocktails."
McKnight Place also modified special events, like courtyard concerts, so residents could participate from the safety of their own apartment. Concerts, ranging from jazz to rockabilly to popular music, featured local artists like Bridgette Kossor, The Celebration Barbershop Quartet, Cheri and Arvell, and the Anita Rosamund Duo. While the concerts were entertaining, they also offered residents therapeutic benefits.
"Music has the amazing ability to connect to people on all levels," says activity director Samantha Hinson. "Just being able to sit back and listen to live music brings back so many fond memories. It may be reminiscent of listening to music with family members as a child, or a certain song may bring back a plethora of calming or happy memories. We are so happy to get to provide live entertainment for our residents in this modified way."
And, of course, McKnight Place found ways for residents to visit with their loved ones even during the restricted visit policies. Staff helped schedule video chats for residents and families through FaceTime and Skype and coordinated window visits with loved ones.
Ritthamel says, "Residents have 'met' great-grandbabies [and] seen loved ones and furry friends. Many tears of joy have been shed at the window – it has really been a positive experience for our residents and their families."
Supporting each other
"We are all in the same situation – residents, families and staff alike," Ritthamel notes. "I think we have found support in one another. From emailing an especially sweet picture of a loved one to a family member, to sitting and visiting with a lonely resident, to sharing a note of thanks written to our staff. Our community has really come together to support one another."
At McKnight Place, we remain true to our resident-centered approach, putting the health and safety of residents first. Regardless of circumstances, our experienced and dedicated staff remain committed to the wellbeing of our residents.
---
We're here for you.
As a trusted expert in senior living, we're here for you and your loved one now more than ever. To learn more about how McKnight Place is keeping residents connected with their community and family, call us at 314-993-3333 (Assisted Living & Memory Care) or 314-993-2221 (Extended Care).