Over the last several weeks, much has changed about our daily routines and plans for the immediate future. Amidst all this change and anxiety, though, nature continues on. Signs of spring are a welcome reprieve from the uncertainty we are all experiencing right now with both physical and mental health benefits.
Enjoying the Outdoors
For older adults who aren't as mobile, simply opening the windows to let in some fresh air can be a comfortable way to enjoy nature. Or, sitting outside in our beautiful outdoor spaces to appreciate the trees and flowers.
As the weather starts to warm, wildlife begins to emerge as well. Placing a bird feeder near a large window can be a simple way for your older adult to enjoy the sights and sounds of spring whenever they like.
Bring Nature Indoors
Indoor gardening can be a great alternative for older adults who aren't able to get out in nature. Spring is a great time to start an indoor herb garden, grow a trio of flowers, or cultivate a miniature bonsai tree to help achieve health and wellness goals.
Caring for plants can improve physical function. The actions help exercise injured limbs and work on fine and gross motor skills.
Nature promotes lifelong learning. Many of our residents are lifelong lovers of gardening and nature. Finding ways to continue that interest whether indoors is great stimulation for the brain and sparks memories of past experiences.
Gardening therapy can improve mental state. After just 30 minutes, people who work with plants exhibit lower levels of cortisol, a stress hormone. By lowering cortisol, gardening lifts spirits and improves overall mental health.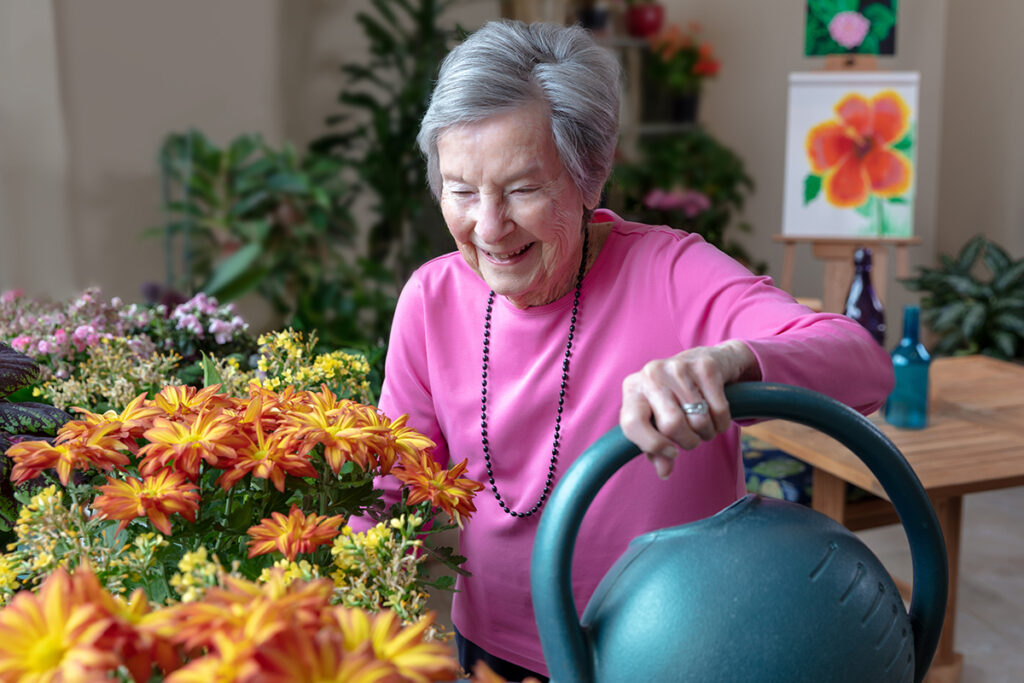 A Beautiful Home
You will not find a more beautiful or thoughtfully designed place to call home. We have considered every detail. With amazing outdoor spaces, you will enjoy plenty of relaxing strolls through the winding garden paths and places to sit and enjoy the sights and sounds of spring. Sometimes, all it takes is some fresh air, sunshine, and nature to remind us that this, too, shall pass.
---
We're here for you.
As a trusted expert in senior living, we're here for you and your loved one now more than ever. While we are not currently scheduling tours or allowing visitors to enter the community, we are happy to send you more information or speak with you over the phone.
Call us to help you answer questions or just to listen at 314-993-3333 (Assisted Living & Memory Care) or 314-993-2221 (Extended Care).