Physical Activity is Vital for Your Health
As adults age, changing health needs often require more assistance. However, that doesn't mean your loved one has to lose independence or an active lifestyle. Today, vibrant assisted living communities are helping senior adults live healthy, enriched lives in beautiful, homelike environments with a bounty of amenities.
It's important to learn as much as you can about assisted living, so you're well prepared to make smart decisions with your loved one for the future.
#1 – How do we know when it's time to move to assisted living?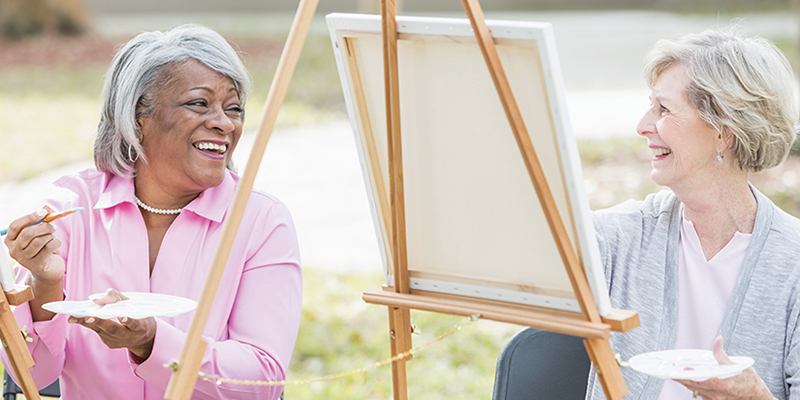 The decision to move to an assisted living community requires many considerations, including health, safety, independence, caregiver options, finances and more. Yet timing is everything. For older adults living at home, a long, cold winter can lead to isolation, slips on ice and heart attacks due to exertion in the cold. Planning ahead in the fall can prevent these winter issues.
Choosing to move to assisted living is a positive step toward allowing a senior family member to thrive while also giving peace of mind to the entire family. Sometimes, the decision is easy. Other times, it can take longer to recognize the need.
Some questions to consider about a loved one:
Is housekeeping, yard work or bill paying becoming too much to handle?
Is it difficult to shower or bathe regularly without help?
Is there a change in mobility or balance that creates a fall risk?
Are medications are being taken correctly?
Is it a challenge to cook and prepare a nutritious meal?
Has driving ability diminished due to vision, memory loss or physical limitations?
Is isolation, loneliness, fear or depression surfacing?
Is the caregiver experiencing emotional, mental and physical stress?
Assisted living offers residents a safe, comfortable and social lifestyle. Families spend less time worrying and more time enjoying special moments together.
McKnight Place Assisted Living and Memory Care offers an easy transition to the community. As part of McKnight Place's unparalleled service, a moving coordinator works with new residents to organize their move and customize their new home's layout, decor and finishes.
#2 – What are the benefits of assisted living?
Assisted living provides services for seniors who want to remain independent while receiving some extra help and care. Assistance is provided in areas such as meals, housekeeping and laundry; managing medications and doctor visits; transportation; personal care; safety and security; and physical and social activities.
At McKnight Place, wellness is the centerpiece of every day. A wide variety of activities are tailored just for each resident's wishes and abilities. Residents look forward to daily activities such as exercise classes, painting classes, concerts, outings and more. Residents also are treated to fine restaurant-style dining with healthy, flavorful options created by Executive Chef John Morales.
Residents at McKnight Place enjoy their independence in their beautifully-designed, spacious suites with a bay window and upgraded finishes. McKnight Place embraces individuality to allow residents to choose the lifestyle they want. The residents and families also appreciate the comfort of knowing nursing staff is available 24 hours a day if needed. In addition, a certified geriatric medical director is always on call.
#3 – What should we look for in an assisted living community?
Every assisted living community is unique. It's important to find the right fit by visiting the community; exploring care, dining and activity options; observing cleanliness and safety practices; and getting to know the staff's approach to caring for residents.
Look for a community that includes the senior adult in decision making about their needs and wants. Activities and lifestyle should take a comprehensive approach to the intellectual, social, spiritual and physical well-being of each resident.
Exceptional service is the hallmark of McKnight Place. Residents receive personalized attention, customized to every need. The community's local owners have been committed to families for more than 25 years and know the residents by name. The entire caregiver team also gets to know each resident to make McKnight Place a true community where residents come first.
At McKnight Place, every day brings choices for freedom and fun geared toward a vibrant, active lifestyle. Activities include yoga, happy hour, billiards, ballroom dancing, gardening, backyard games, card games, singing, spiritual services, learning opportunities and much more. In addition, residents enjoy regular educational, cultural, dining and entertainment outings.
McKnight Place amenities include a 45-seat theater, greenhouse, art room, garden café and grand dining room, along with a large fitness center, chapel, card room and full-service beauty salon. A lush garden welcomes residents and families outdoors. They also can soak in the sights and sounds of nature on a walking path through the beautiful grounds of McKnight Place.
Residents expect — and receive — a higher standard in senior living at McKnight Place Assisted Living and Memory Care where they live the life they choose.
---
Come See For Yourself
For more information about McKnight Place or for a personal tour, please call 314-993-3333.