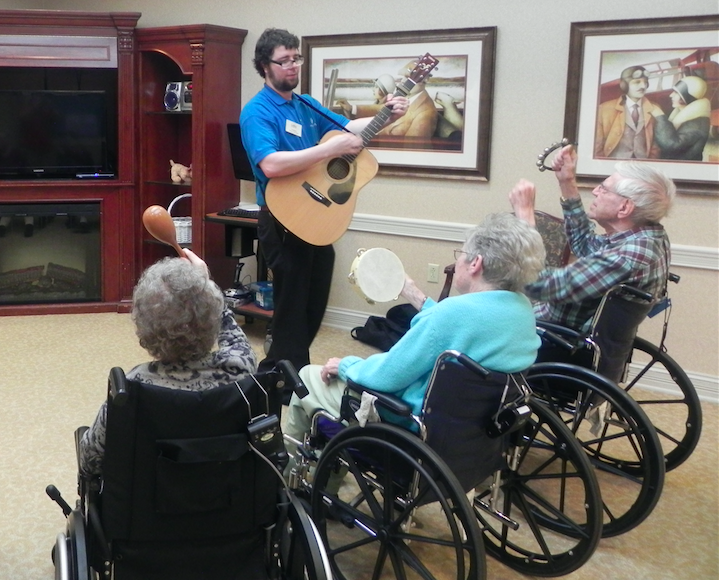 Recent research suggests music has a powerful affect on memory and the psyche, making it a powerful tool to help seniors. Our board certified music therapist at McKnight Place uses music to increase residents' levels of physical, mental, social, and emotional well-being. Sensory and intellectual stimulation of music can help maintain our residents' quality of life, as recent research indicates music is one of the few stimuli to trigger activity throughout the brain rather than in an isolated area.
Music is used for many activities at McKnight Place, from entertainment to exercise. In addition, private sessions are available for individualized music therapy to address specific needs for individual residents.
Why use music therapy?
Music therapy comprises the clinical and evidence-based music interventions to accomplish individualized goals. Many people can benefit from music therapy, including older adults, those with Alzheimer's and other age-related conditions, people with physical disabilities and those who suffer from acute and chronic pain.
Music therapy can include a variety of techniques based on the strength and needs of each resident. The goal is to find a way to interact with the music in some way, whether creating sounds, singing along, moving to the beat or listening for enjoyment. Memories are awakened and emotions come alive when songs strike a chord in the hearts of listeners.
For more information about the science of music therapy, please visit the American Music Therapy Association
If you would like to learn more about music therapy at McKnight Place or want to schedule a private session, please contact the Activities Department at 314-993-2221.