Resident Spotlight: Mary Banning
She Has Been Chosen by the McKnight Place Staff for March 2020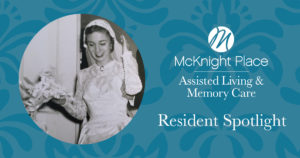 NOTE: Compiled by the McKnight Place Assisted Living & Memory Care Staff
McKnight Place Assisted Living & Memory Care is proud to feature Mary Banning for its March 2020 Resident Spotlight.
Mary "Tookie" (James) Banning was born on March 3, 1930, in Morristown, Tenn. Her father, George, worked for a food processing company and, during the war, ran a business with his brother that sent food overseas to soldiers. Her mother, Ruth, was a homemaker. Mary was an only child.
Mary attended Morristown High School, where two of her aunts taught. She enjoyed math classes and was a cheerleader during football and basketball seasons. After graduating in 1948, Mary attended the University of Tennessee. She studied to be a librarian and was in the Alpha Omicron Pi sorority.
While in college, Mary met her future husband, Sonny Banning, who was from Memphis.
The evening after sending out their wedding invitations, Mary's fiancé was called overseas to serve during the Korean War. They then moved the wedding up a couple of weeks and were married on Nov. 3, 1951. A few weeks after the wedding, Sonny left for Korea and Mary didn't see him for a year.
Sonny called Mary and she flew to Japan, where they lived for a year while he was stationed there. During that time, Mary worked for the army, traveling around to the bases and taking books to them.
The couple eventually moved back to Memphis, where they had their first child, Katherine. Mary worked for the hospital, doing library work, and her husband worked for the bank. They soon had their second child, Jim.
Mary's husband got a job at IBM and they moved to Westport, Conn. Mary and her family enjoyed playing golf, as well as traveling around the world. They especially enjoyed taking the children to New York City, Europe and the beaches of New England.
Mary's husband had cancer and died at just 41 years old. Mary loved living in Connecticut so much that she stayed there for another 24 years before returning to Memphis.
Mary has two grandchildren who live in North Carolina and San Francisco. They grew up in St. Louis and attended John Burroughs High School before moving on to Wake Forest University and Tufts University. She also has three great grandchildren.
Mary moved to McKnight Place Assisted Living in March 2019. She enjoys attending art classes, socializing with friends and getting her exercise by walking daily.