Resident Spotlight: Linda Barbee
She Has Been Chosen by the McKnight Place Staff for February 2020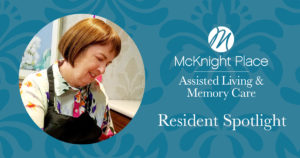 NOTE: Compiled by the McKnight Place Assisted Living & Memory Care Staff
McKnight Place Assisted Living & Memory Care is proud to feature Linda Barbee for the February 2020 Resident Spotlight.
Linda (McGinnis) Barbee was born in Houston on March 22, 1947. Her father, Horrace, worked for Phillips throwing fertilizer. Her mother, Maureen, worked in the kitchen at a high school and taught Linda how to cook. Linda and her mother helped take care of the family.
Linda graduated from Pasadena High School (Texas) in 1965. She went on to attend Houston Baptist College, where she earned degrees in mathematics, biology and accounting. Linda also met her husband, James Barbee, in school. They got married a month before Linda's graduation in 1969.
After they married, James continued his education while Linda worked in pediatric cardiology to help pay for his schooling. James, who still works as a doctor today, specializes in family, sports and emergency medicine.
The couple has two daughters, April and Siobhan, plus three granddaughters. As a family, they have enjoyed taking trips to the island of Tahiti. Linda loved taking care of and cooking for her family. She was active in her church choir and involved with a local book club.
Linda moved to McKnight Place Assisted Living & Memory Care on June 25, 2018. Her husband also lives in our community. Known for laughing and joking with fellow residents, she also enjoys singing and dancing to Patsy Cline and Willie Nelson.