Resident of the Month: Terry Brungardt
He Has Been Chosen by the McKnight Place Staff for December 2019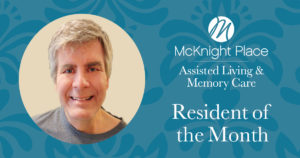 NOTE: Compiled by the McKnight Place Assisted Living & Memory Care Staff
McKnight Place Assisted Living & Memory Care is proud to name Terry Brungardt as its Resident of the Month for December 2019.
Terry Brungardt was born in Wichita, Kan. His father, Al, was an installer who turned supervisor for Western Electric. His mother, Francy, was a loving housewife for the family.
As a boy, Terry's family enjoyed traveling to Beaver Lake, Ark. He is a 1977 graduate of Chaminade Prep School, where he played football all four years and ran track for three years.
After high school, Terry attended the University of Missouri-St. Louis and Saint Louis University. He graduated from SLU in 1982 with a bachelor's degree in marketing.
Terry is a service specialist for Edward Jones. He has been employed there since 1993.
Terry has two sons and two grandchildren. He and the kids enjoy playing games and reading. He also enjoys listening to music from all decades. Some of his favorite bands are Bruce Springsteen, the Beatles and Cheap Trick.
Terry coached basketball from his senior in high school until his sons were born in 1990. He then returned to coaching when his children were in elementary school. Terry was able to coach both boys in basketball and one son in baseball. He even coached his niece in soccer and basketball.
Terry moved to McKnight Place Assisted Living & Memory Care earlier this year. He enjoys Monday evening art lectures, watching sports and spending time with his family.