Resident of the Month: Beverly Roche
She Has Been Chosen by the McKnight Place Staff for November 2019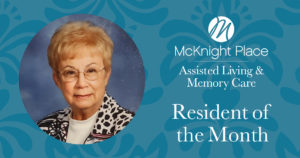 NOTE: Compiled by the McKnight Place Assisted Living Staff
McKnight Place Assisted Living is proud to name Beverly Roche as its Resident of the Month for November 2019.
Beverly Roche, who was born in St. Louis on March 16, 1936, is the eldest of William and Isabel Schroder's three children.
Her father was a butcher and manager for many years at Schenberg's Market on Delmar in University City. He was also an active member of the Central Rowing Club and would participate regularly in competitions on the Mississippi River. Her mother was a homemaker who spent much of her time caring for Beverly and her two siblings.
Beverly graduated from Nerinx Hall High School in 1954, and from Webster University in 1958. At Webster, she studied philosophy, elementary education and art. She began working as an elementary school teacher shortly after graduation.
Beverly remains very active with the Webster University Alumni Association and has helped organize monthly luncheons with her classmates for many years. In fact, she recently hosted two well-received luncheons at McKnight Place for the ladies in her class.
"The (McKnight Place) chef and staff were so accommodating," she said when asked about her experience. "The food, service and setting could not have been nicer. My classmates and I had a wonderful time. I'm very grateful."
Beverly married her husband, Jim, in 1960 and they had two boys, Michael and Bill.
Jim was an attorney, having graduated from Saint Louis University's School of Law. He worked as a prosecutor with the St. Louis Circuit Attorney. He was also on the St. Louis Board of Police Commissioners and worked as the prosecuting attorney for the City of Jennings for almost 20 years. Sadly, he passed away in 2004.
Beverly and Jim enjoyed being very active in their community, church and school. She spent 43 years, from 1973-2016, serving in elected and appointed positions for the City of Jennings, including assessor, collector and finance director. Beverly also held multiple leadership positions on the St. Louis Regional Health Commission, University of Missouri Extension Council and North County Chamber of Commerce.
A very accomplished piano, organ and accordion player, Beverly was the organist and choir director for Corpus Christi Catholic Church for 15 years where she also helped start the Parish nurse program. She also helped found Churches United for Community Action and developed the CHOIR program (Churches Helping Older Independent Residents).
Beverly currently enjoys following the activities of her children, seven grandchildren, two great-grandchildren, four dogs, one cat and horse. Both of her sons currently live in St. Louis. Mike had a long career in legal and governmental affairs at Anheuser-Busch and most recently worked as chief of staff to the Missouri governor. Bill is a sergeant in the Saint Louis County Police Department's Intelligence Unit and serves as the Director of the St. Louis Fusion Center.
Beverly moved into McKnight Place in April 2019. She enjoys the community's diversity and listening to everyone's stories. She also likes the broad range of art and music activities and particularly enjoys the nighty musical entertainment. She loves to dance and encourages all to join her.
Beverly feels valued at McKnight Place, and she plans to continue attending the Resident Council meetings to make sure the residents' concerns are being heard. She is very appreciative of the kind staff, and looks forward to continuing to make new friends.