Resident Earns Prestigious Award from Local Golf Association
Bob Shogren Has Made Significant Contributions to the Game for Decades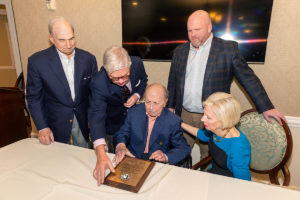 McKnight Place Extended Care (MPEC) resident Bob Shogren has received the Metropolitan Amateur Golf Association's (MAGA) Meritorious Service Award. The honor shows appreciation for his long-standing contribution and meritorious service to the PGA of America, Gateway PGA Section and amateur golf in the St. Louis region.
MAGA, which services 140 member clubs in Missouri and Illinois, was founded by Tom O'Toole in 1992. O'Toole, a St. Louis native and St. Louis Sports Hall of Fame member, made a recent trip to MPEC to present Shogren with the organization's most prestigious award.
Shogren, who previously served as a MAGA board member, has been a committed rules official for many years. He was a longtime official for the PGA of America's winter series in Florida and officiated a countless number of Monday championships/events for Gateway PGA.
Shogren's career culminated at the 2018 PGA Championship, which was hosted by Bellerive Country Club in Town and Country. The event attracted more than 550 million television viewers worldwide and brought the St. Louis region more than $100 million in economic impact.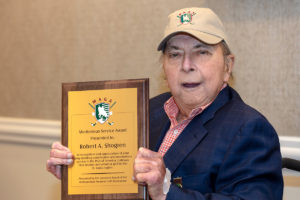 "Bob has been an instrumental factor with all of our district rules officials for 20+ years," St. Louis District Golf Association Director of Operations Tony Miller said. "His insight to the new volunteers has always been greatly appreciated, and his knowledge of the game always admired. Bob was a great official and has always been a great guy."
O'Toole has served as a rules official at more than 140 United States Golf Association (USGA) championships, including every U.S. Open Championship since 1990. He has been involved with the national organization since 1988 and served as its president from 2014-15.
"Bob has put together an extensive body of work in the game of golf," O'Toole said during his visit to McKnight Place. "I am pretty well traveled, and frankly, Bob is one of the world's leading authorities on the rules of golf. With his selection for his award, Bob joins an illustrious list of St. Louis golf icons. And while all of them were worthy, none are more worthy than Bob."
McKnight Place Extended Care Administrator Glenda Knittel was also on hand when O'Toole presented Shogren with the award.
"Congratulations to Bob on this very well-deserved honor," she added. "His contributions to the game of golf, both locally and nationally, are very impressive. We are proud of everything Bob has accomplished and feel so lucky to have him as a resident."