McKnight Place Featured in Ladue News
The Community Offers Multiple Music Sessions Each Week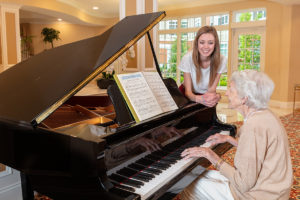 McKnight Place's music offerings were featured in a recent edition of the Ladue News. Its music-therapy program, which is led by Therapist Samantha Hinson, addresses social, physical, emotional and cognitive needs of residents. Private sessions are also available to accommodate every interest and need.
"McKnight Place caters to the preferences of its residents, especially in art and music," Hinson told the Ladue News.  "Music therapy is often times used to reach non-music goals. We work on memory recall, socialization and anything that lets residents express themselves creatively and have a good time."
Hinson offers diversity in her programming through a schedule of activities each week. From lectures on significant musicians and composers to historical examinations of music and even to incorporating games, the music therapy offered at McKnight Place has proven to connect residents with their families.
"I have a sister and sister-in-law who play piano, and every time we get the family together, we sing and play and enjoy," one resident said. "I'm enjoying the whole thing (when asked about participating in a McKnight Place choir). I like Samantha leading us. We're all having a good time."
Hinson points out how music unites individuals from every background. It's said to be an avenue for so many people. Hinson also mentions how music is an emotional experience, and everyone has a connection in some way. Even if someone has dementia, they can still engage in music.
The Ladue News, a weekly publication that gets distributed to more than 45,000 St. Louis County residents, has been part of the region for more than three decades. Its topics include society and charity coverage, real estate, business and financial news, health innovations, home and design, fashion and beauty, dining, travel and entertainment.
To read the full article, click on the link above.