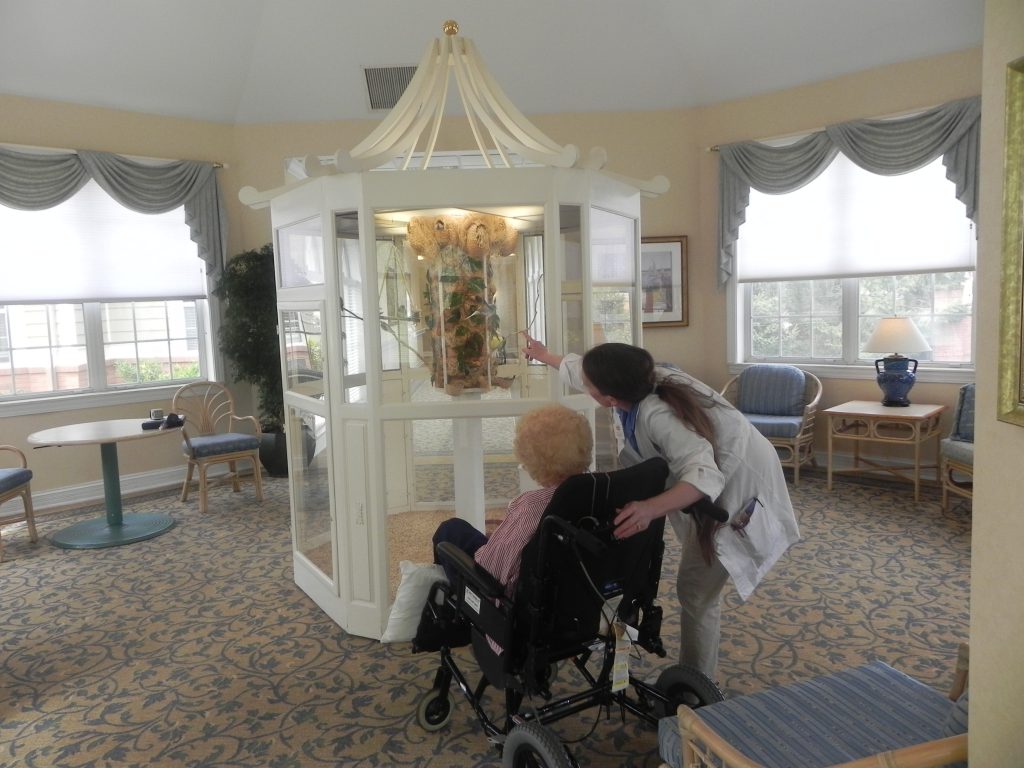 Pet owners know that our animals make us happy, but a growing body of scientific research indicates that pets and animal companions can have a positive impact on our health and well-being. At McKnight Place, we provide animals for all residents to enjoy as part of our home-like setting in our beautiful and therapeutic aviaries.
Our birds have positive psychological effects on our residents. Animal companions can reduce stress and lessen loneliness, and residents enjoy the return of the role pets may have played in their lives.
The aviaries in our Extended Care and Assisted Living facilities are sources of beauty for individual enjoyment, as well as centers for socialization. Residents and visitors love to spend time watching our birds and discussing their colors and activities. The birds may even spark new interest and inspire viewers to learn about the species living at McKnight Place.
Studies indicate birds and other animals benefit residents' physical health. One of the earliest studies connecting animals to health showed that heart attack victims with pets lived longer than those who didn't. Spending time with animals has also been proven to decrease blood pressure. Aviaries have been shown to increase residents' attention spans and focus the attention of hyperactive individuals.
Our aviaries are maintained by Living Design. Their experts choose a mix of species based on habits, colors, and more to provide the most enjoyable viewing experience possible. Read more about the fascinating birds in each aviary here: McKnight Place Aviary Contents.
We encourage you to stop and look at our aviaries the next time you visit McKnight Place. The sights and sounds soothe and inspire while bringing a touch of nature indoors for our enjoyment.