Making the Holidays Merrier with Senior Parents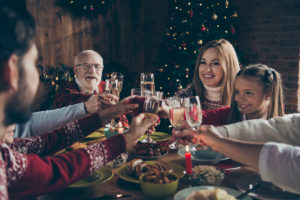 While the holidays often bring fun and family, they also can be stressful, especially when you're caring for a senior parent. Here's how to make your time together more meaningful and enjoyable for everyone.
Think Through Travel
Traveling with aging parents, whether by car or plane, requires additional planning, especially if your senior parent has medical, mobility or personal care issues.
Before you get too far in planning, talk with your loved one's doctor to find out if travel is OK. The doctor may have specific travel tips to accommodate any health condition.
When packing, keep your senior parent's essentials within reach in a bag (if driving) or as a carry-on bag (if flying). The bag should include medications, emergency numbers, insurance cards, a light sweater or jacket, a snack or drink and a travel pillow.
Remember to allow space for any necessary assistive equipment, such as a cane, walker or wheelchair. If flying, arrange special services ahead of time. Ask hotels for an accessible room with shower bars.
Relax the Schedule
Many people enjoy the hustle and bustle of the holidays. However, the season's pace, sounds and crowds can be overwhelming to senior adults. Be sure to plan for downtime.
Find a quiet place where your senior parent can rest and regroup, whether they are staying in your home or if you're on the go. This is even more important if your loved one has dementia symptoms.
Create a routine for mealtimes, medications and rest to reduce anxiety and stress. Recognize limitations and schedule your celebrations when your loved one feels best to make happy memories for all.
Share the Spirit
During this season, be mindful of emotions and take time to listen. Invite senior family members to your celebrations, offer transportation to gatherings and visit often throughout the season. Make a point to help with decorations, gift wrapping, baking or take your older parent for a ride to see holiday lights.
Stay Active and Involved
Frigid temperatures and slippery sidewalks during winter sometimes send even the heartiest people into hibernation. Yet staying active and engaged is important all year round, especially for older adults.
If your senior parent has limited mobility, chair exercises and chair yoga are options to boost circulation, mood and energy. On those occasional warmer days sprinkled throughout winter, a brief walk outside is invigorating and provides a welcome change of scenery.
Spending time on favorite hobbies or creative activities such as painting, knitting, singing or simply socializing are healthy for mind and body during the dreary months. Offer to bring your senior parent to classes or join them for these activities.
Consider More Assistance Year Round
Most seniors crave their independence, yet may still need some assistance, whether it's the holiday season or spring. If they are living at home and you're concerned about their safety, make sure they have the resources they need. That may include meal delivery services, medical alarms, car service or personal care assistants.
Double check their kitchen and pantry to ensure they're eating fresh, healthy food. Consider installing grab bars in bathrooms if they don't already have them. Look for trip hazards such as throw rugs, cords and coffee tables.
The holidays may make it clear that your senior parent could benefit from extra help. If you think your loved one could benefit from assistance with daily living, or is feeling isolated and lonely, please contact McKnight Place to see how we can help.
Choosing to move to a senior community is a positive step toward allowing a senior family member to thrive while also giving peace of mind to the entire family.
Everything We Offer
Residents at McKnight Place enjoy their independence in beautifully-designed, spacious suites with a bay window and upgraded finishes. Residents and families also appreciate the comfort of knowing a nursing staff is available 24 hours a day if needed. In addition, a certified geriatric medical director is always on call.
The thoughtful amenities — such as a fitness area, greenhouse and lush gardens — encourage an active lifestyle year-round. Other activities available include bowling, billiards, ballroom dancing, gardening, putting contests, yard games, card games, painting, singing, happy hours, spiritual services and learning opportunities. Residents enjoy regular educational, cultural, dining and entertainment outings.
The community also includes fine restaurant-style dining with healthy, flavorful options created by an award-winning chef, Anthony Lyons, CEC.
With a wide range of activities and focus on wellness, McKnight Place is a lively, beautiful community where residents live the life they choose — every day of the year.
For more information or to schedule a personal tour, please call 314-993-3333.