Laura Ritthamel Promoted to Assisted Living & Memory Care Executive Director
She Previously Served as the Community's Assistant Administrator
Laura Ritthamel, who has served as the assistant administrator at McKnight Place Assisted Living & Memory Care for more than two years, has been promoted to executive director. She has been with The Gatesworth Communities since 2014.
"We are very excited about Laura's promotion," Partner Bob Leonard said on behalf of the owners, which also includes Charlie Deutsch and David Smith. "She is knowledgeable, experienced, hard-working and respected by everyone she comes in contact with."
Ritthamel will now direct all day-to-day operations and oversee more than 150 employees. She will be responsible for managing staff in the areas of medical, nursing, social services, leasing/sales, facility operations, food/beverage, laundry/housekeeping and human resources.
Ritthamel will focus on upholding McKnight Place's mission statement and core values. She will also be ultimately responsible for making sure residents receive quality care and services.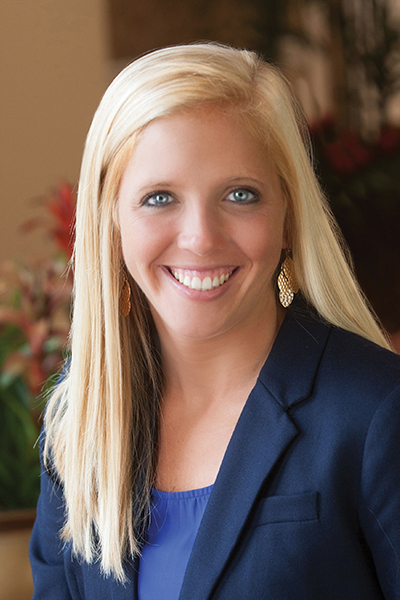 "I am extremely grateful for this opportunity and want to sincerely thank our owners," Ritthamel said. "I am excited to continue with a senior-living community that I care deeply about. I love our staff, residents and their families. They all mean a great deal to me."
Ritthamel journey started at Parc Provence — another member of The Gatesworth Communities — as an activity specialist. She received three promotions in just over a year, advancing to activity team leader, then assistant activity director and finally administrator-in-training.
After earning a nursing home administrators license in 2017, Ritthamel moved to her most-recent role at McKnight Place Assisted Living & Memory Care.
Ritthamel grew up in the St. Louis region and graduated from Missouri State University. Her passion for senior living started at the age of 11, shortly after her grandmother suffered a stroke. That's when Ritthamel began volunteering at the senior-living community where her grandmother resided.
"I have spent over half of my life working in senior living, and I couldn't imagine doing anything else," Ritthamel added. "I truly believe this is what I was meant to do, and I'm very excited about the years ahead at McKnight Place."
Centrally located near Ladue at Interstate 170 and Delmar Boulevard, McKnight Place Assisted Living & Memory Care is a premier senior-living community. In late 2017, it opened a 102,000-square-foot expansion. The operation is part of The Gatesworth Communities, which includes The Gatesworth, McKnight Place Extended Care and Parc Provence.