The health and wellness of the people who live and work at McKnight Place Extended Care remains our number one priority.
McKnight Place continues to take extensive precautionary measures to protect our vulnerable residents by implementing further modifications to help safeguard the safety of our residents and staff. We are collaborating with our Medical Director, Dr. Kaiser, as well as the appropriate authorities and experts, to ensure we are doing everything we can.
The steps we are taking in our community are based upon the guidelines from the U.S. Centers for Disease Control and Prevention (CDC), St. Louis County Department of Health and Missouri Department of Health & Senior Services (DHSS). To avoid exposure to the virus, health officials recommend that people over the age of 60 with weakened immune systems or health conditions remain at home, away from large groups and public places. For that reason, we are strongly discouraging residents from leaving the community, especially to visit high-density crowd gathering locations such as shopping centers, theaters and churches.
We are not allowing visitors to enter our community, with only a few exceptions.
It is critical to mitigate the possible spread of the virus. We have started screening all staff and essential vendors with a temperature check and health screening questionnaire (which includes questions regarding any travel in the last 30 days, individual symptoms and any potential exposure to others with symptoms consistent with flu, COVID-19 or any respiratory illness). We are also taking temperatures of each team member before their shift starts. If a resident leaves the community, we'll check their temperature when they return. We will also be happy to do temperature checks at any time for any resident upon request. Vitals, including temperature checks, are taken on a regular basis.
We are now scheduling outdoor visits.
The St. Louis Public Health Department and Missouri Department of Health and Senior Services have provided guidance for allowing visits. McKnight Place, regardless of COVID-19 status, may have outdoor visits. Families may schedule an outdoor visit appointment starting Wednesday, October 7, 2020 by calling (314) 310-4090.
A resident, their guardian, or legal representative are able to designate up to five (5) visitors total for visits. Once chosen, these five (5) visitors will need to remain consistent. A resident may have only two (2) visitors at one time from the designated group of five (5). At this time we are starting with one (1) visit per resident. This gives all residents the opportunity to visit with loved ones. As we see how this works out we will open up the schedule as needed. Reservations for the upcoming day must be made by 7 pm the previous day. We will not be able to accommodate same day reservations or same day changes.
Visitors must comply with the following Department of Health & Senior Services rules:
Schedule an appointment in advance.
Be screened using our screening questionnaire and a temperature check.
Practice hand hygiene, using hand sanitizer, before each visit.
Maintain social distancing (spaced by at least six feet).
Use of a cloth face covering or facemask throughout the visit (please refrain from bringing any food or drinks).
Visitors for Fountain View Terrace residents will have 2 reserved parking spots in the front of the building all the way around to the exit. The parking spot will be in the right side of the drive.
Visitors for Magnolia Place residents will have 2 reserved parking spots on the side of the building closest to the 4-way stop.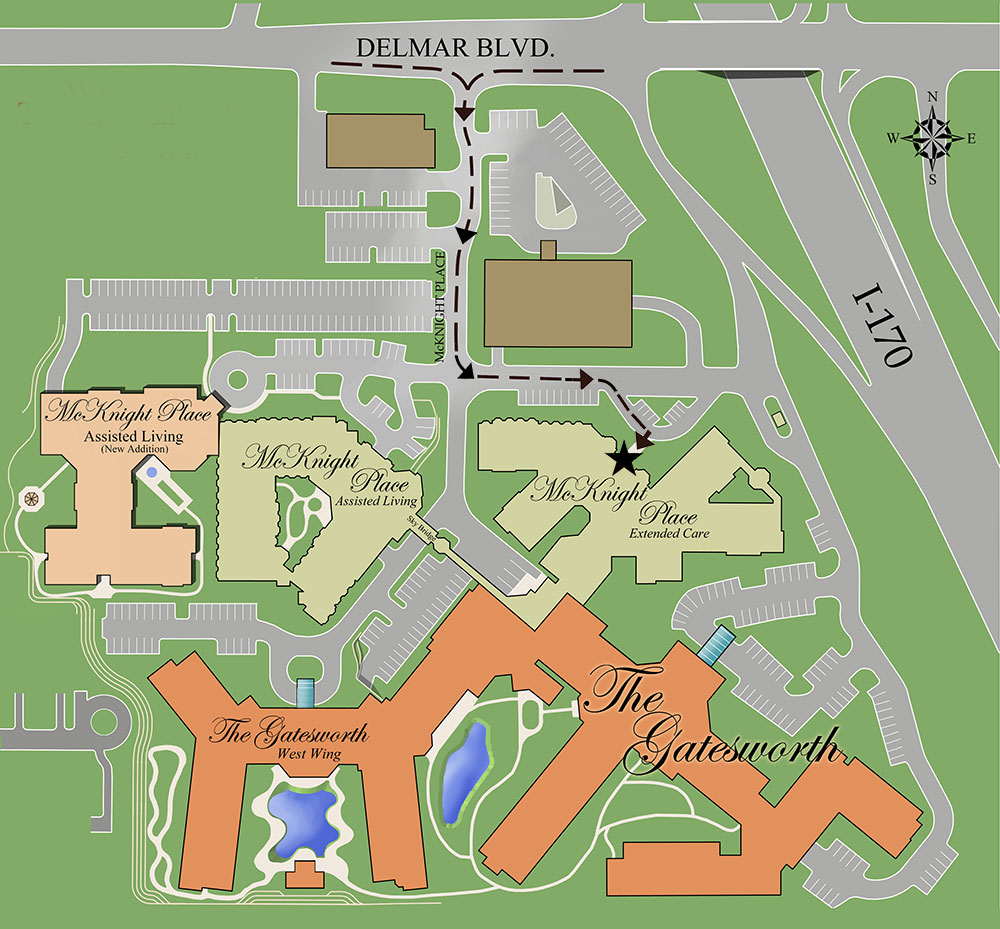 The additional following steps are being taken in our community:
Staff complete a Health Screening Questionnaire and have their temperature taken prior to entering the building. There is a handwashing station located at our front entrance for all staff to use after their health screening. We have constructed a booth with plexiglass windows, similar to those you see at Dierberg's or Schnucks, to ensure our individuals screening are protected.
During this time we are allowing employees to enter through our front doors during the hours of 6:30 am to 8:00 pm. From 8:00 pm to 6:29 am the employees enter through the employee entrance as usual.
Vendors will deliver at the dock, not entering the buildings.
Our team remains focused on frequent enhanced cleaning and sanitizing in all the community common areas.
Hand sanitizer available throughout the building.
We will be monitoring residents closely for signs and symptoms of flu or COVID-19.
Continue to enforce the 6′ Social Distancing Rule
Responsible Parties/Friends/Family Members: For your protection, we have added a table in at the front entrance for "contact-less" drop-offs of any bags or packages. Please leave your items there and we will pick up after you leave. Please have the resident name or room number attached to your package or bag. The table is monitored from 8:00 am-8:00 pm daily. If you call ahead we will also use this area as a laundry exchange.
Continued training and education for staff about the COVID-19 and prevention measures.
LEAVING THE BUILDING:
In an effort to maintain your health, and the health of other residents, in accordance with the Missouri Department of Health & Senior Services (DHSS), residents SHOULD NOT leave the building, unless for a necessary medical reason that cannot be addressed within the facility. If a resident leaves the building, they are potentially risking their health and the health of others; as well as being potentially discharged from McKnight Place Extended Care.
We are happy to assist with ordering items, shopping for you, or anything else you may need, in order to prevent possible exposure by others outside of the building.
DINING:
In an effort to reduce potential exposure, and maintain proper social distancing, we have limited the dining room to only those that need assistance with their meals. Even with this we are keeping our social distancing and limiting the number of individuals in any area to 10 or less.
We will be offering room service during this time. Nursing & Food Service staff will be assisting with taking orders each day.
We have taken standing breakfast orders that will be prepared each day from a limited menu. Daily menus will be collected for the next day's lunch and dinner meals.
During this time, we have reduced the options available for each meal. The menus were created from many of our resident's favorite options.
ACTIVITIES:
We are suspending the use of outside volunteers and entertainers.
We are discontinuing group shopping trips and other outings and social gatherings.
We have stopped group activities as recommended.
We are requesting that residents remain in their rooms as much as possible. We have increased the amount of one on one visits to each room.
Carts carrying ice cream, snacks, individual mind games, crossword puzzles, art supplies and such are offered daily.
THERAPY:
At this time, we are suspending Restorative Therapy and any non-essential therapy sessions.
COMMUNITY VISITORS:
We are not allowing visitors to enter the community.
ENHANCED CLEANING:
Our teams are continuing to focus on frequent enhanced cleaning and disinfecting.
TRANSPORTATION:
We are temporarily discontinuing scenic trips.
VIDEO CONFERENCING:
We are scheduling Facetime, Skype, and Goggle Duo appointments to allow you to video chat with your loved ones.
Please contact Admissions at 314-372-2353 to set up an appointment.
Have your children/grandchildren write letters, send cards, draw/paint pictures and mail to their loved one.
HOUSEKEEPING:
In order to limit the exposure of our residents, we are limiting housekeepers' time in each room.
Bathrooms are being thoroughly cleaned and disinfected, and trash removed and vacuumed as needed.
Social Distancing is being used by all housekeeping staff.
For residents that have a refrigerator in their room, we are ensuring that all food items are still within proper dates and discarding any items that are in the need of being removed.
MASKS:
We have a supply of masks, however not an unlimited supply. We continue to order and receive shipments.
We have made the decision to be proactive and have our staff that can't stay 6″ away from our residents to wear a mask. (This includes our nursing staff that gives direct care and our activity staff. There are no active COVID-19 cases in the building. The masks are to protect the residents and are only a precaution.)
We want to thank you again for your support as we work through this together. In the meantime, please remember to wash your hands frequently and practice social distancing.
– Glenda Knittel, Administrator at McKnight Place Extended Care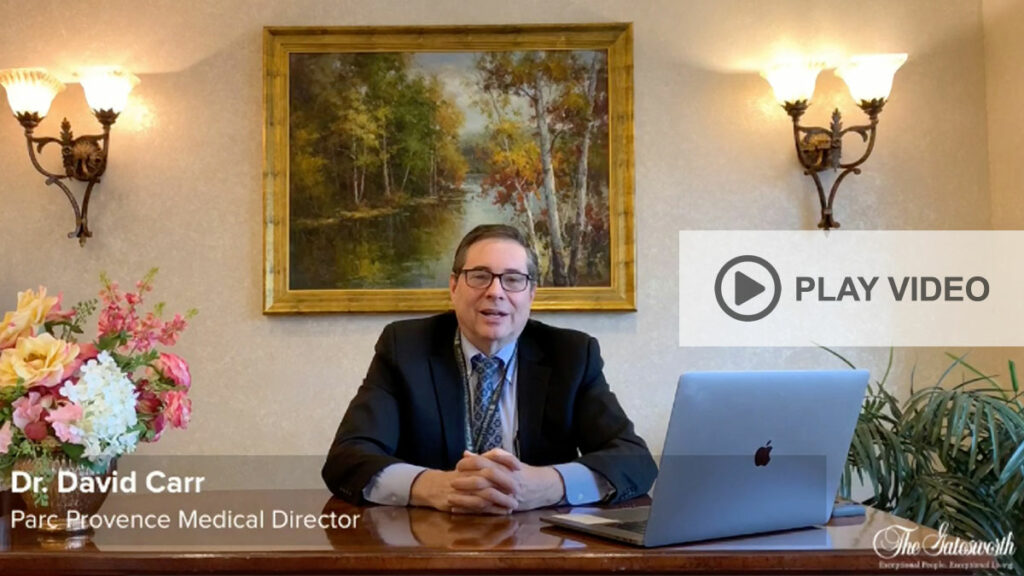 Additional information concerning COVID-19:
We are closely monitoring the increase in cases of COVID-19. We are following guidelines from the U.S. Centers for Disease Control and Prevention (CDC), St. Louis County Department of Health and Missouri Department of Health & Senior Services (DHSS). Our decisions are based upon their guidance combined with the expertise of our teams.
We understand this virus is a concern for everyone and our strategy is based on an abundance of caution. We are being proactive but also reasonable about any changes made to day-to-day operations.
We are working closely with team members to ensure they do not come to work when sick. Ongoing training and education is being provided. We ask that residents alert us immediately if they are ill so we can take appropriate action and provide aid.
Health officials agree the best defense techniques are:
Frequent hand washing using proper hand hygiene by scrubbing with warm water for at least 20 seconds. Hand sanitizer is useful, but does not replace washing with soap and hot water.
Avoid touching your face and keep your hands away from your nose, mouth and eyes.
Practice social distancing in all situations.
Cover your mouth and nose with a tissue or bent elbow when coughing or sneezing. Discard the tissue immediately and clean your hands.
We are continuing to prepare for any situations that may arise. We will continue to provide updates as needed as this situation is changing rapidly.
Please note that all statements and recommendations could change as the government agency recommendations change.
Thank you for your cooperation and understanding.