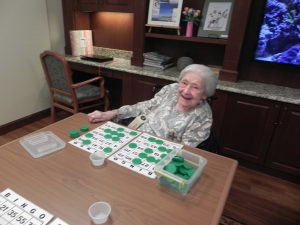 Having fun and connecting with others helps our residents stay actively engaged in life. One way to enjoy visiting with loved ones at McKnight Place is to spend time playing games or working on puzzles. These interactive options provide moments of joy and may help keep minds sharp, as well.
Benefits of Puzzles and Games
Research indicates that working with games and puzzles can reduce the risk and slow the effects of dementia among elderly people. They are also wonderful social tools  to encourage interaction while providing a sense of accomplishment and self worth.
Which Games and Puzzles Should I Choose?
There are many options when it comes to choosing an appropriate game to play with older adults. Remember to consider any physical limitations that may affect participation such as arthritis or limited vision, and choose accordingly. See links to resources below.
Many older adults enjoy nostalgic board games, such as
Yahtzee
Life
Dominoes
Trivial Pursuit
Scrabble
Operation
Others enjoy traditional games including bingo and bridge, while some may want to try video games.
Puzzles and crossword puzzles can provide hours of entertainment. Look for puzzles with larger pieces and easy-to-read crossword puzzles, available from the same stores with adapted games.
Find a selection of games adapted for seniors here:
or
Make memories, provide a source of mental engagement, and provide a joyful experience by sharing games and puzzles with your loved ones at McKnight Place. This seemingly simple way to interact can be an important tool toward enjoying a stimulating and active life.