The health and wellness of the people who live and work at McKnight Place Assisted Living & Memory Care remains our number one priority.
McKnight Place continues to take extensive precautionary measures to protect our vulnerable residents by implementing further modifications to help safeguard the safety of our residents and staff. We are collaborating with our Medical Director, Dr. Kaiser, as well as the appropriate authorities and experts, to ensure we are doing everything we can.
The steps we are taking in our community are based upon the guidelines from the U.S. Centers for Disease Control and Prevention (CDC), St. Louis County Department of Health and Missouri Department of Health & Senior Services (DHSS). To avoid exposure to the virus, health officials recommend that people over the age of 60 with weakened immune systems or health conditions remain at home, away from large groups and public places. For that reason, we are strongly discouraging residents from leaving the community, especially to visit high-density crowd gathering locations such as shopping centers, theaters and churches.
We are screening all staff and essential vendors with a temperature check and health screening questionnaire (which includes questions regarding any travel in the last 30 days, individual symptoms and any potential exposure to others with symptoms consistent with flu, COVID-19 or any respiratory illness). For residents, we will continue to check temperatures on a regular basis. We will also be happy to do temperature checks at any time for any resident upon request. Ongoing training and education are being provided to team members.
Visitors are welcome without scheduling appointments in advance.
The St. Louis Public Health Department and Missouri Department of Health and Senior Services have provided guidance for allowing visits. At this time, they released a "Face Covering Order" for both vaccinated and unvaccinated individuals, which took effect on Monday, July 26, 2021. McKnight Place has continued many COVID-19 prevention efforts throughout the pandemic, and remain diligent in these efforts. Outlined below are reminders for both visitors coming in to the building and residents leaving the building.
Visitors Coming in to McKnight Place:
Do not visit if you are sick or not feeling well – even if you think it is just a cold.
Complete the screening form at the reception desk prior to entering.
Practice hand hygiene, using hand sanitizer, whenever possible.
Maintain social distancing (spaced by at least six feet).
Please enter the building wearing a mask, and keep it on throughout your visit. Masks should still be worn at all times by visitors while walking to/from their loved ones apartment.
Visitors must remain in the resident's apartment throughout the duration of the visit.  Common areas, dining rooms, and group activities, remain closed to visitors. Fully vaccinated residents and fully vaccinated visitors can visit in the resident's apartment alone, without masks on. If a caregiver were to come in, we would ask that you put your mask back on.
Please keep visits between the hours of 9am and 7pm, to allow for periodic cleaning of common areas.
Fully vaccinated residents and fully vaccinated visitors can share a meal in the resident's apartment. We are not yet offering room service to visitors, but visitors are welcome to bring food in.
Please note, "fully vaccinated" is defined as being two weeks from the second dose of a two-step vaccination (Moderna or Pfizer) or two weeks from the date of a one-step vaccination (Johnson & Johnson).
Residents Going Out:
Please wear a mask at all times.
Practice proper hand hygiene and social distance whenever possible.
Avoid large crowds and gatherings.
Please keep outings between the hours of 9am and 7pm, to allow for periodic cleaning of common areas.
The additional following steps are being taken in our community:
There is a handwashing station located outside of the building for all staff to use before entering the community. Staff complete a Health Screening Questionnaire and have their temperature taken prior to entering the building. We have constructed a booth with plexiglass windows, similar to those you see at Dierberg's or Schnucks, to ensure our individuals screening are protected.
We are limiting community transportation, but we will continue to transport residents to necessary medical appointments.
We are not providing transportation for shopping trips and we're working with residents on alternative ways to obtain their essentials.
Responsible Parties/Friends/Family Members: For your protection, we have added a tent near the loading dock area for "contact-less" drop-offs of any bags or packages. These items will be sprayed with disinfectant, then delivered to your loved one in a timely fashion. The tent is monitored from 7:00 am-11:00 pm daily.
Our team remains focused on frequent enhanced cleaning and sanitizing in all the community common areas.
Continued training and education for staff about the COVID-19 and prevention measures.
We want to emphasize the importance of residents and families letting us know immediately if they feel ill, or think that they might have been exposed to COVID-19. We are ready to provide assistance and respond to their needs quickly.
LEAVING THE BUILDING:
Residents may leave the building. Please call the receptionist to schedule in advance at 314-993-3333.
MASKS:
The CDC is recommending Americans voluntarily wear nonmedical masks in public to limit Coronavirus transmission. For this reason, we have implemented the policy that our McKnight Place employees wear masks whenever in the building, in addition to our current prevention efforts (hand washing, health screenings, temperature screenings, social distancing, etc.). Rest assured any employees who are sick will still not be permitted to come to work.
These policies include private duty and companions as well. Each company has been notified of this policy change. We will provide their first mask, however, it is our expectation that they will come prepared with his or her own mask thereafter.
ENHANCED CLEANING:
Our teams are continuing to focus on frequent, enhanced cleaning and disinfecting.
TRANSPORTATION:
We are limiting community transportation, but we will continue to provide transport to necessary, non-emergency medical appointments.
FACETIME/SKYPE:
We are offering Facetime/Skype appointments to allow you to visit with your loved ones. Please contact Samantha Hinson, Director of Activities, to set up an appointment.
SALON:
The Salon is open. We will work through all residents in the building, so appointments will not be needed.
Once everyone has had the opportunity, then we will begin to offer hair color, manicures, pedicures, etc.
GROUP ACTIVITIES:
We have already begun some group activities.

Masks and social distancing required.
Theater: Live Stream Religious Services, Zoom Exercise Classes, Movie Matinees, Documentaries
Garden Café: Games, Bingo, Crossword Puzzles

Beginning Monday, May 24, Happy Hour will be expanded to five nights a week (Monday through Friday). Now that we can have four fully vaccinated residents seated per table, we will welcome all residents all five nights at Happy Hour. We will continue to feature our very own musicians – Samantha Hinson, Activity Director, on the guitar and vocals, Katie Voss, Music Therapist, on the guitar and vocals, and Mike Orzel, Activity Assistant, on the keyboard and vocals – at three Happy Hours per week.
Residents who are fully vaccinated do not have to wear a mask during group activities, if all other participants are also fully vaccinated. At this time, we continue to encourage all residents to wear masks (when not eating or drinking) outside of their apartment, as there are some residents who are still waiting for their second dose of the COVID-19 vaccination.
DINING IN DINING ROOM:
At this time, DHSS guidance does not allow visitors to eat in the dining room.
Residents who are fully vaccinated can sit in the dining room, and share a table with three other fully vaccinated residents (four per table). Unvaccinated residents will still have to social distance from others.
We want to thank you again for your support as we work through this together. In the meantime, please remember to wash your hands frequently and practice social distancing.
– Laura Ritthamel, Executive Director at McKnight Place Assisted Living & Memory Care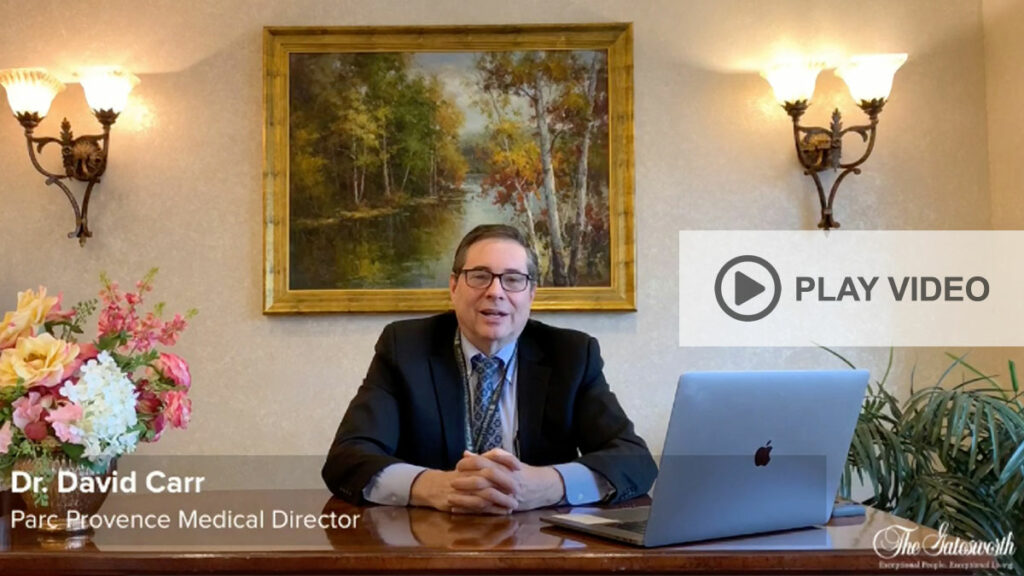 Additional information concerning COVID-19:
We are closely monitoring the increase in cases of COVID-19. We are following guidelines from the U.S. Centers for Disease Control and Prevention (CDC), St. Louis County Department of Health and Missouri Department of Health & Senior Services (DHSS). Our decisions are based upon their guidance combined with the expertise of our teams.
We understand this virus is a concern for everyone and our strategy is based on an abundance of caution. We want to be proactive but also reasonable about any changes to day-to-day operations.
We are working closely with team members to ensure they do not come to work when sick. Ongoing training and education is being provided. We ask that residents alert us immediately if they are ill so we can take appropriate action and provide aid.
Health officials agree the best defense techniques are:
Frequent hand washing using proper hand hygiene by scrubbing with warm water for at least 20 seconds. Hand sanitizer is useful, but does not replace washing with soap and hot water.
Avoid touching your face and keep your hands away from your nose, mouth and eyes.
Practice social distancing in all situations.
Cover your mouth and nose with a tissue or bent elbow when coughing or sneezing. Discard the tissue immediately and clean your hands.
We are continuing to prepare for any situations that may arise. We will continue to provide updates as needed as this situation is changing rapidly.
Please note that all statements and recommendations could change as the government agency recommendations change.
Thank you for your cooperation and understanding.