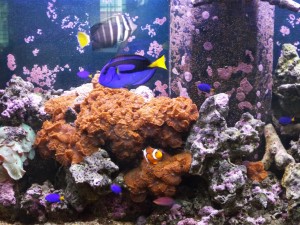 While the aquarium at McKnight Place certainly adds to the ambience, our aquarium isn't just another part of our exquisite décor. There are many benefits to having underwater friends on display.
A number of studies have proven the therapeutic benefits of aquariums to seniors. Older adults provided with an aquarium filled with fish experienced a significant drop in blood pressure levels. Patient's with Alzheimer's ate more and exhibited less physically aggressive behaviors when in a room with a fish aquarium. Aquariums have also been shown to reduce overall stress in people of all ages.
A key element to enjoyment and benefit comes from watching the fish. Studies showed that subjects who observed fish swimming in aquariums had significantly reduced stress levels compared to those who viewed beautifully decorated aquariums containing no fish. Watching fish swim back and forth allows the mind to relax and while remaining alert and active – providing the ideal state to remain calm for long periods of time.
Perhaps the most enjoyable aspect of our aquarium is that it can stimulate conversation. Whether among residents, with staff, or with loved ones who come to visit, we enjoy hearing about favorite fish and the colors inside the tank. The aquarium provides an opportunity to spark conversation and connect while serving as a source for entertainment and relaxation.
The next time you visit McKnight Place, be sure to stop and check out our lovely salt water aquarium. It just might be good for you!