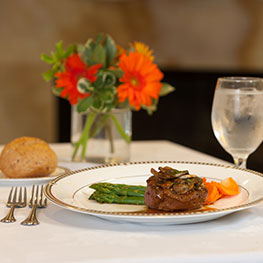 Fine dining isn't reserved just for special occasions at McKnight Place. We believe in the value of quality meals in a comfortable, social setting for our residents any time they choose. That's why we offer restaurant-style, delicious meals every single day.
Our community is honored to have Chef Anthony Lyons, Certified Executive Chef, leading our kitchen and creating culinary delights. His recipes are healthy, yet never lacking in flavor. Chef Anthony uses the freshest ingredients and finest herbs to create seasonal updates and deliver familiar favorites. Let us serve you tempting meals. With no clean up for you, it couldn't be easier to eat well!
A Sampling of Our Menu
What can residents and guests expect when dining at McKnight Place? This sample menu is indicative of a typical offering in our dining room. Select which options appeal most to your palette.
For starters:
Soups
Soup du Jour
Corn Chowder
Tomato Soup
Salads
Tossed Garden Salad
Romaine lettuce, toasted croutons, crisp cucumbers, fresh tomatoes, and grted cheddar cheese
Strawberry Spinach Salad
Spinach salad with sweet strawberries, crumbled feta cheese, sliced red onion, and toasted almonds served with a raspberry vinaigrette
Entrees
Pan Seared Salmon
Irish pan-seared salmon crisped with a citrus vinegar glaze and served with sautéed asparagus and roasted new potatoes
Boneless Prime Rib
Slow-cooked prime rib of beef with an au jus and horseradish cream served with garlic green beans and mashed potatoes
Sides
Sauteed Asparagus
Garlic Green Beans
Mashed Potatoes
Roasted New Potatoes
Desserts
Cherry Pie
Cheesecake
Seasonal Fruit
Selection of Cookies
Click here to download a Sample Menu.
Learn more about McKnight Place.
McKnight Place offers assisted living and skilled nursing services to senior adults in the St. Louis area. Our active community thrives in our setting offering all the comforts of home. Locally owned and operated for over 25 years, we strive to provide the highest standard in senior living to our residents every single day. Learn more. Contact us today to schedule a personal tour.